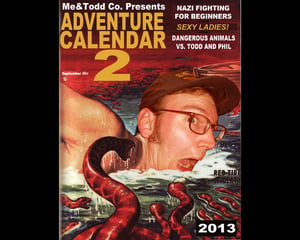 $

10.00 - On Sale
This is the sequel to Me&Todd Co.'s calendar from 2008.
Adventure Todd returns with more epic battles against Nazis, dangerous animals, and attractive torturous females.
He risks his life to bring you hilarious facial expressions and unbelievable scenarios ALL YEAR ROUND.
More artwork of Todd's can be seen at www.meandtodd.com.
Happy New Year and THANKS!